Our medically developed weight loss protocol and smarter lifestyle choices education offers dieters what they really want…a structured program that can put an end to constant dieting.
Ideal Protein gave me energy and stamina I haven't felt in a long time!
Ideal Protein gave me energy and stamina I haven't felt in a long time, along with the weight loss I was desiring. After the first 2 days, my body already felt the cleanse it much needed. My bloating and belly fat was gone in the first week, which my normal attempt with sit-ups and ab crunches could never have done. I felt like I used to be a walking addict of processed food, sugar and high fructose corn syrup.
The Secret Challenge to Weight Loss Nobody Ever Tells You
Stop Living in Fear of Being Overweight for the Rest of Your Life…
According to the National Institutes of Health, dieters regain almost all of their lost weight within 5 years after dieting. There are 3 primary reasons for this: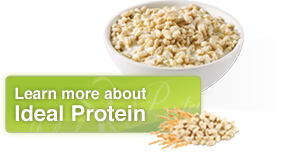 One of the greatest hazards of dieting is losing muscle mass along with fat. Muscle is required to burn calories. Therefore, when you decrease your muscle mass via dieting, you will have less muscle to burn calories after you return to your regular eating patterns. In other words, you will regain your lost weight.
If you start dieting again you will lose yet more muscle, further inhibiting your ability to burn calories.
Thankfully there is a solution – The Ideal Protein Weight Loss Method.
Click here and ask us why education is your most valuable tool to achieving stable weight loss
True Weight Loss is Measured by Your Ability to Maintain Results After Dieting…
The Ideal Protein Weight Loss Method primarily promotes fat burning while supporting muscle retention. Why is muscle retention important? A common consequence of dieting is a loss of muscle ALONG with fat. Muscle burns calories. If you lose muscle while dieting, you will have hindered your ability to burn calories, post-diet. As a result, you will be at risk of regaining your lost weight…unless you have learned how to develop better eating habits and employed a protein based diet to lose weight. Protein supports muscle mass and also satisfies the human appetite, unlike carbohydrates (sugar) and fats. Therefore, all of Ideal Protein's food products contain an average of 15+ grams of protein to assist your muscle retention while you shed your excess pounds. Additionally, you will receive a smarter lifestyle education from your personal weight loss coach. The purpose of this education is to assist you in making better, sustainable eating choices after dieting.
If you're tired of bouncing from one fad diet to another and frustrated with results that don't last…Contact us today to register for one of our weight loss information sessions and ask about stable weight maintenance and the path to balanced eating.
Total Body Health Center, SC is Authorized to Use the Ideal Protein Weight Loss Protocol and Products. The testimonials on this website are those of the individual that is identified, you should not necessarily expect to receive these results. Typical results vary from person to person and individual to individual when the Ideal Protein Weight Loss Protocol is followed properly. You should consult your physician or other health care professional before starting this or any other diet program to determine if it is right for your needs.
453 Dunham Rd, Suite 200 Saint Charles IL 60174 – Phone: 630-587-5824
Copyright © 2018 Ideal Protein All rights reserved.